WEW Series Computer Screen Displayed Hydraulic Universal Testing Machine is a relatively simple testing machine used mainly in the area of metallic material's mechanical capability testing. By adopt a loading frame, a manual controlled hydraulic power station, and a data acquisition and display computer, this kind of testing machine can perform tension, compression, bending or shearing test through a pair of hand-wheel-valve manual control hydraulic loading system according to the Chinese GB standard or ASTM, BS, JIS or DIN standard.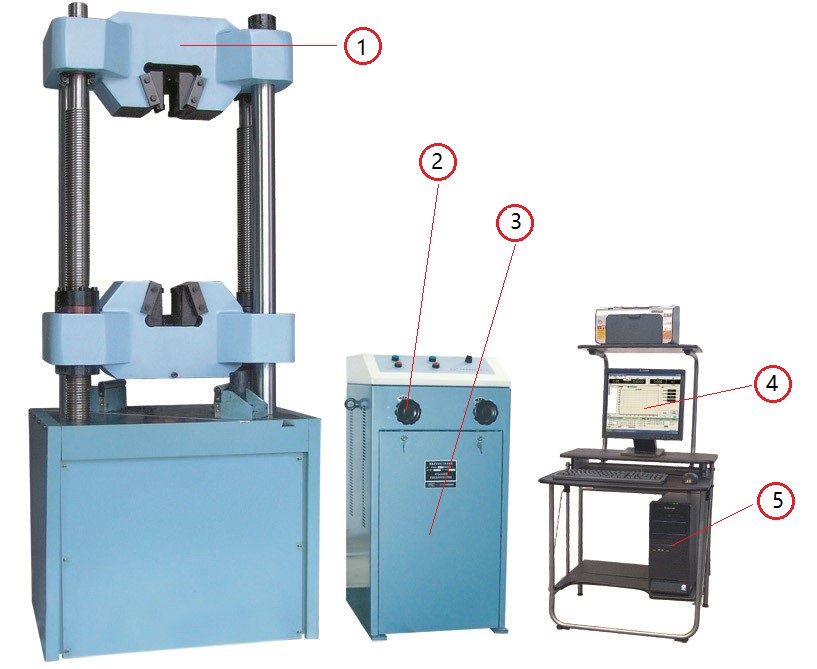 1. Load frame with auto clamping Jaws.
2. Hand-wheel operated hydraulic control valves.
3. Hydraulic power station with electric operation circuit and oil tank.
4. Displaying screen of the data acquisition computer.
5. Data acquisition and processing computer.
Specifications:
| | | | | |
| --- | --- | --- | --- | --- |
| Model | WEW-300D | WEW-600D | WEW-1000D | WEW-2000D |
| Max. load (kN) | 300kN | 600kN | 1000kN | 2000kN |
| Load Accuracy | ≤1% Indication | ≤1% Indication | ≤1% Indication | ≤1% Indication |
| Load validity range | 4%--100% F.S. | 4%--100% F.S. | 4%--100% F.S. | 4%--100% F.S. |
| Extensometer | One extensometer with gauge length 50mm and 50% extension scale | One extensometer with gauge length 50mm and 50% extension scale | One extensometer with gauge length 50mm and 50% extension scale | One extensometer with gauge length 50mm and 50% extension scale |
| Displacement of the working table | Measured by an encoder with the resolution of 0.01mm | Measured by an encoder with the resolution of 0.01mm | Measured by an encoder with the resolution of 0.01mm | Measured by an encoder with the resolution of 0.01mm |
| Clamping type | Hydraulic auto clamping | Hydraulic auto clamping | Hydraulic auto clamping | Hydraulic auto clamping |
| Max. tensile space mm | 620 | 690 | 620 | 700 |
| Max. compression space mm | 550 | 620 | 580 | 600 |
| Clamping thickness of flat specimen | 0-15 | 0-30 | 0-40 | 0-50 |
| Clamping diameter of round specimen | Ф10-Ф32 | Ф13-Ф40 | Ф14-Ф45 | Ф15-Ф70 |
| Piston stroke of the actuator | 150 | 150 | 150 | 150 |
| Dimension of upper & lower compression plate | 120×120 | 170×170 | 205×205 | Ф300 |
| space between the two support rollers of the bending test | 100-320 | 100-500 | 100-500 | 100-600 |
| Space between the two load frame columns | 495 | 570 | 600 | 880 |
| Max. moving speed of the working table | ≥100 | ≥100 | ≥70 | 50 |
| Max. speed of the crossbeam (mm/min ) | ≥220 | ≥240 | ≥300 | 130 |
| Power (kW) | ≈2.1 | ≈2.1 | ≈2.1 | ≈5.5 |
| Outline Dimension of the load frame (wide*thickness*depth) mm | 800×500×1950 | 950×630×2265 | 980×650×2220 | 1500×900×3500 |
| Outline dimension of the hydraulic power station (wide*thickness*depth) mm | 580×540×1090 | 580×540×1090 | 580×540×1090 | 680×640×1200 |
| Net Weight (kg) | ≈2000 | ≈3000 | ≈3300 | ≈4000 |
| Working Noise (dB) | ≤75 | ≤75 | ≤75 | ≤75 |