The long column large space testing system adopted four adjustable screw loading structure, large welded-steel plate made and floor-mounted working table, and a computer-electro-hydraulic servo controller. The tensile and compression actuator mounted on the adjustable crossbeam, and can be used to doing specimen test for the concrete and construction test such as tensile, compression and bending, for the real or ratio contracted pillar, beam or frame. The large and adjustable space leads to easy and quick installation of the structure or specimen. A very important advantage of this machine is that the specimen and the gage and connections lines fixed on the specimen are not move due to the upper installed actuator. This also ensures the reliability of data collection.
This kind of testing machine can be recognized as both material testing machine and structural testing machine.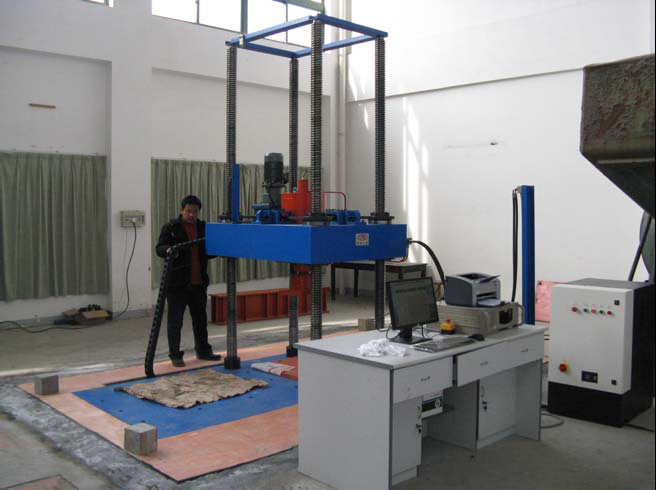 1. Four screw columns are used as loading column and testing space adjustment screws.
2. Space adjustment driving motor.
3. Loading servo actuator and crossbeam.
4. Specimen installation table with screwed holes.
5. Industrial Computer Controller.
6. Movable servo hydraulic station.
Specifications:
| | | | |
| --- | --- | --- | --- |
| Model | YAW-2000J | YAW-5000J | YAW-10000J |
| The Max. Load (kN ) | 2000 | 5000 | 10000 |
| Load accuracy | ±1% | ±1% | ±1% |
| Load validity range | 4%—100% FS | 4%—100% FS | 4%—100% FS |
| Actuator speed range | 0.5~50 | 0.5~50 | 0.5~50 |
| Max. tensile testing space ( mm) | 3000 | 3000 | 3000 |
| Max. compression testing space (mm) | 3000 | 3000 | 3000 |
| Max. piston stroke (mm) | 500 | 500 | 500 |
| Upper and lower compressing plate size (mm) | 300*300 | 400*400 | 500*500 |
| Max. space between bending rollers (mm) | 3500 | 3500 | 3500 |
| Space between screw pillars (mm) | 1200*800 | 1200*900 | 1750*1550 |
| Max. crossbeam moving speed (mm / min) | ≥150 | ≥150 | ≥150 |
| Total Power (kW) | ≈10 | ≈18 | ≈35 |
| Size of load frame (L*W*H mm) | 4000×1500×5400 | 4000×1500×5700 | 4000×2000×6000 |
| Size of the hydraulic station(L*W*H mm) | 1100*700*1300 | 1700*700*1400 | 2200*1020*1600 |
| Net weight (kg) | ≈20000 | ≈25000 | ≈30000 |
| Working noise dB | ≤75 | ≤75 | ≤75 |