HRS-150A Digital Display Manual Rockwell Hardness Tester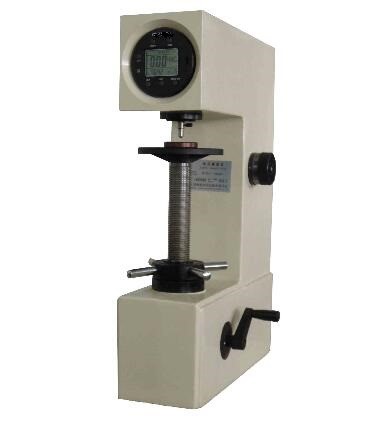 HRS-150A Digital Display Manual Operating Rockwell Hardness Tester
Main Function
The latest digital liquid crystal display, button battery powered, easy maintenance.
Ultra-low power consumption, long battery life, up to one year of normal use.
No external power required.
Manual loading-hold-unloading, simple operation.
Automatic hardness display with high accuracy, no artificial reading error.
The displayer has a digital output connecter. An external mini printer is optional.
Printed report content: hardness average, maximum and minimum, hardness dispersion.
With automatic conversion with other hardness such as HB, HV, etc.
Application
To determine the Rockwell hardness of ferrous metal, non-ferrous metal, and other materials.
It's mainly used for Rockwell hardness measurement of heat-treated materials.
To determine the surface Rockwell hardness of ferrous metals, alloy steels, hard alloys and other metals after surface treatment.
Specifications:
| | |
| --- | --- |
| Hardness scale | A, B, C, D, E, F, G, H, K |
| Test force | kfg: 60, 100, 150 N: 588, 980, 1471 |
| Test Range | 20~88HRA, 20~70HRC, 20~100HRB |
| Indicative resolution | 0.1HR |
| Indication accuracy | Meet GB / T 230.2, IS0 6508, ASTM E18 standards |
| Test force holding time | 1-99 seconds adjustable |
| Maximum specimen height | 195mm |
| Distance from indenter center to machine wall | 140mm |
| Power | 220V/50-60HZ |
| Dimensions | Length * width * height 463 * 175 * 660mm |
| Weight | Net weight: 74kg, gross weight: 90kg |
| Touch screen display content | Hardness value, Rockwell scale, total test force, holding time, field temperature, upper and lower limit values, number of measurements, average value, minimum thickness of test piece |
| Output Interface | Can connect external mini printer (optional) |
Electronic Brinell Hardness Tester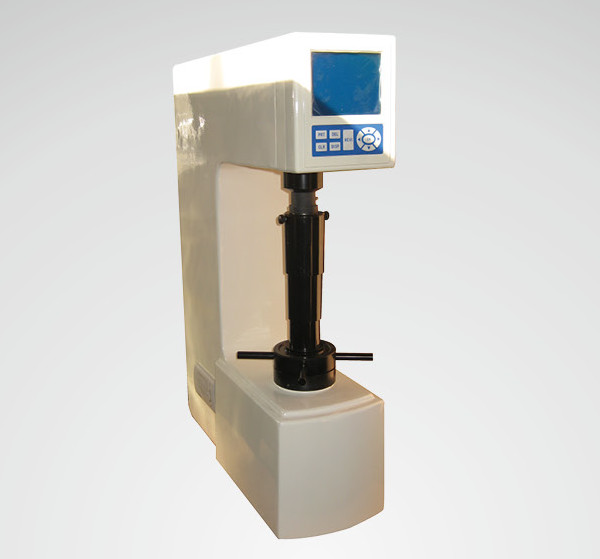 Direct Reading Brinell Hardness Tester
Main Function
Only used to measure Brinell hardness for metallic materials without heat treated such as unquenched steel, cast iron, Non-ferrous metals and soft bearing alloy, etc.
Automatic loading, load holding timing and unloading when doing measurement.
Dual core close-loop control for loading and measurement, 16 bit AD and digital output, all above made the equipment with high accuracy and stable measuring and displaying value.
100 group testing data storage.
The indentation can be directly measured through micrometer eyepiece.
The diameter of the indentation and the value of hardness are displayed on LCD display.
The test times and results either present or history can be viewed and checked in standby mode.
This equipment is mainly used in machinery manufacturing, metallurgy, building materials and other area.
Compliant standards:
a) National Standard: GB / T231.2-2002 "Metal Brinell Hardness Test Part 2: Inspection of Hardness Tester".
b) International Standard: ISO6506.2
c) American Standard: ASTM E-10
Specifications:
| | |
| --- | --- |
| Test force | 1839N (187.5kgf), 2452N (250kgf), 7355N (750kgf), 9807N (1000kgf), 28420N (3000kgf) |
| Indenter ball diameter | 2.5mm, 5mm, 10mm |
| Test force holding time | 6 ~ 99 seconds, can be set |
| Measuring hardness range | 8~650HBW |
| Maximum test space in vertical direction | 230mm |
| Horizontal indenter axis from front wall | 120mm |
| Power | 220VAC, 50 ~ 60Hz, 2A |