This machine is mainly used for static torsion test of bolts with high strength. It's not only met the requirement of the follow technical standards, on this basis, it can also be customized according to the requirements from different users. The standards are as follows: ISO-16047, EN14399.2C-2005, ASTM F3125, GBT16823.3-2010 "Fastener Torque-Clamping Force Test". The photo and main composition of the machine are as below: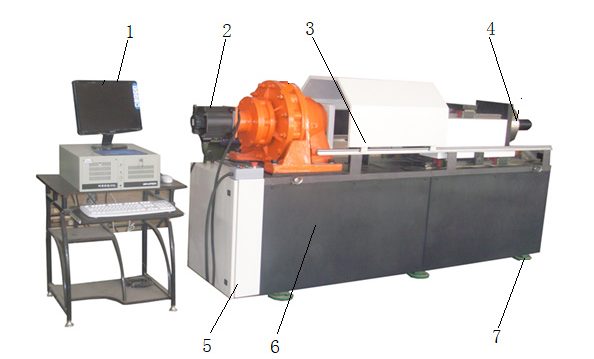 The IPC controller with inserted PCI cards executes data acquisition, I/O operation and close-loop control. Working under a windows application software POPWARE-PI, this full digital system can use the LCD screen to display test data, draw the torque-stress, corner-stress curves, and also can do automatic data processing, storing, and test report printing according to the associated standard.
A servo motor and a planetary gear reduction mechanism form a low-speed torque driving device. A high-precision torque sensor and a bolt stress sensor installed at the output end ensure the accuracy of the test data.
Adopting a precisely processed platform as its main frame, on which installed the loading device; this machine can not only ensure the flatness and stiffness of the machine but also the accuracy of the testing result.
The axial tensile load of the torsion device is transmitted to the bolt stress sensor in order to measure the torque and axial bolt stress at the same time.
The power cabinet is located at the lower left of the machine which mainly provides electric power for the equipment.
There are three major parameters needs to be measured: axial load, torque, and torsion angle. The IPC controller can automatically collect these three measurements, display and store them.
Specifications:
| | | | | | |
| --- | --- | --- | --- | --- | --- |
| Model | NDW-2000 | NDW-5000 | NDW-10000 | NDW-20000 | NDW-30000 |
| Max. Static Torque | 2000Nm | 5000Nm | 10000Nm | 20000Nm | 30000Nm |
| Effective Measuring Range of Torque | 400~2000Nm | 1000~5000Nm | 2000~10000Nm | 4000~20000Nm | 6000~30000Nm |
| Max. Rotation Speed | 5r/min | 5r/min | 5r/min | 5r/min | 5r/min |
| Max. axial bolt load | 500kN | 1000kN | 2000kN | 2500kN | 3000kN |
| Effective Measuring Range of bolt load | 50-500 kN | 100-1000 kN | 200-2000 kN | 250-2500 kN | 300-3000 kN |
| Torque and load measurement error | 1% | 1% | 1% | 1% | 1% |
| Repeat error | 1% | 1% | 1% | 1% | 1% |
| Rotating angle resolution | 1 ° | 1 ° | 1 ° | 1 ° | 1 ° |
| Bolt specifications | M10-M22 | M20-M30 | M20-M36 | M33-M48 | M33-M80 |
| Power | AC 220 50Hz | AC380 50Hz | AC 380 50Hz | AC 380 50Hz | AC 380 50Hz |
| Control method | IPC Servo Motor Control | IPC Servo Motor Control | IPC Servo Motor Control | IPC Servo Motor Control | IPC Servo Motor Control |